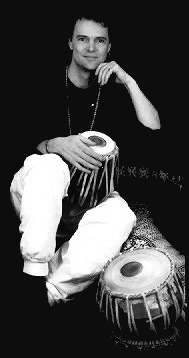 A dynamic joining of east and west are seamlessly combined in David's tabla performances.

David journeyed to India where he studied tabla with the masters, bringing a new depth and perspective to his craft.

He blends a mystical balance of rhythm and feeling with deep roots in traditional Indian precision and culture.

To find out more about David Brunn
and his
work in progress,
please visit his site at
David Brunn.



Site Menu
Home | Alex Johnson | David Brunn | Diane Givens


© jivan gita, '98,'99,'00