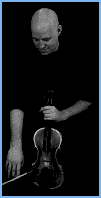 Welcome to Relaxing Violin Music Online.
Violin, Synthesizers, Bass, and Fuzz Bass Tones –
Music by Alex Johnson.
"ltzhak Perlman with glints of Metallica"
– Craig Lebendorfer, Seattle Weekly
New Video by Alex – New music with original video footage.
Early Video by Alex – 9/11 Memorial Music Video. Original music soundtrack.
VIDEO FEED FROM FACEBOOK